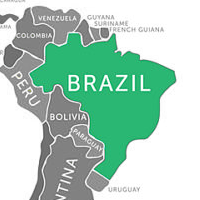 Brazil
Brazil is a vast, culturally-diverse country with a varied climate that offers many attractions to travellers. Wilderness abounds in Brazil and most travellers make a trip to Iguacu Falls with the more adventurous visiting the Amazon rainforest and wetlands of the Pantanal. Brazilians like to celebrate adn festival the Carnival in Rio de Janeiro attract crowds from all over the world. Travellers wanting to relax often head for the south-eastern beaches.
Major Health Risks:
Check your routine immunisations such as Tetanus and Diphtheria are up-to-date.
Yellow Fever vaccination is compulsory for travellers who will be visiting Brazil and other areas in South America.
Dengue Fever occurs in Brazil. It is very important to use insect bit avoidance measures throughout the trip.
Malaria occurs in Brazil. Discuss malaria risk and prevention option with a Travel Doctor prior to departure.
Discuss whether Hepatitus A and Typhoid vaccines are appropriate with a Travel Doctor.